The Best Nicknames For Each Team On MLB Players Weekend Jerseys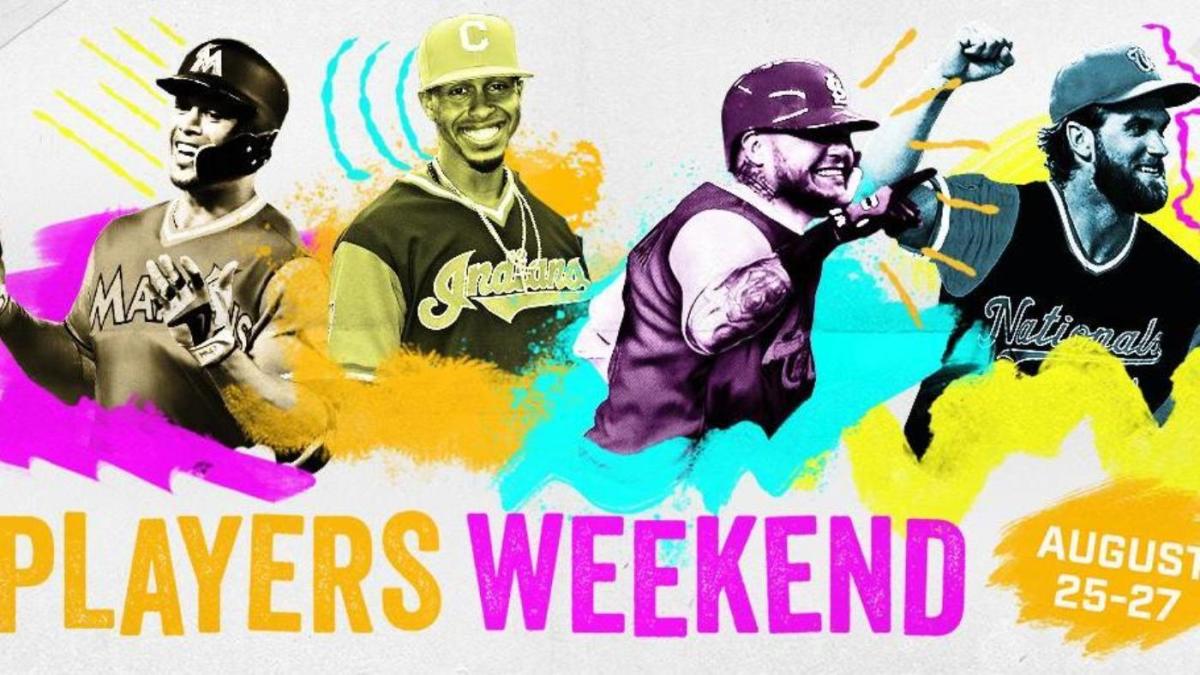 August 25 through August 27 will be the first annual players' weekend in all of Major League Baseball. Teams will wear bright, colorful uniforms and players will be allowed to wear nicknames on their shirts. Plus, they'll each wear a patch with the name of someone who helped them break into the big leagues.
Here are the different Players Weekend jerseys. My personal favorites, in no particular order, are the Orioles, Astros, Padres, Mariners and Rangers.
As for nicknames, some are pretty obvious. Miguel Cabrera's jersey will say "Miggy". Yadier Molina's will will say "Yadi". If David Ortiz was still playing, his would say "Big Papi". Some players have withdrawn entirely. Corey Seager's jersey will say "Seager". Brett Gardner will say "Gardner".
Here are some examples :
Players Weekend jerseys are all on sale in the MLB.com store. Now that the jersey and nicknames have been released, it's time to authoritatively select the best nickname for each team. These are 100% correct and not subject to debate. Forward.
Arizona Diamondbacks: "Herrm the Worm"
I'm not sure I want to know the backstory of this one, Chris Herrmann.
Atlanta Braves: "That guy"
Brandon Phillips has the perfect XFL style nickname for Players Weekend.
Baltimore Orioles: "Mr. Miami"
Bold choice for Manny Machado, with "Mr. Miami" on an Orioles jersey. Then again, he's from Miami, so who am I to argue?
Boston Red Sox: "Stickman"
Kudos to Chris Sale for embracing his natural thinness.
Chicago Cubs: "Carl's Jr."
Let's hope Carl Edwards Jr. gets a good endorsement deal from the fast food establishment.
Chicago White Sox: "Dutch"
Derek Holland…Dutch…Holland…Dutch…get it?
Cincinnati Reds: "Free love"
You do, Bronson Arroyo.
Cleveland Indians: "Mr. Smile"
It's the perfect nickname for Francisco Lindor.
Colorado Rockies: "Gray Wolf"
Will Jon Gray go ghost hunting with these jerseys?
Detroit Tigers: "Fulm Piece"
I'm not sure what that means, but I like that, Michael Fulmer.
Houston Astros: "Showrrea"
A bit far, but I respect Carlos Correa for trying to make it work.
Kansas City Royals: "Melkman"
The Melkman, Melky Cabrera, always delivers.
Los Angeles Angels: "The Machine"
Classic nickname of future Hall of Famer Albert Pujols.
Los Angeles Dodgers: "Wild Horse"
Yasiel Puig knows you can't go wrong with a nickname given by Vin Scully.
Miami Marlins: "Ichi"
Ichiro Suzuki passed up a golden opportunity to go with "Hit King".
Milwaukee Brewers: "Sang Nam Ja"
Eric Thames played three years in Korea before returning to MLB, and my friend Sung Min Kim tells me that "Sang Nam Ja" loosely translates to "Badass", which is perfect.
Minnesota Twins: "The Doof"
Strong pun, Tyler Duffey.
New York Mets: "Thor"
Easy choice for Noah Syndergaard. How Did Matt Harvey Choose "Harv" Over "Dark Knight?"
New York Yankees: "Sir Didi"
Didi Gregorius is literally a knight at home in Curacao, you know.
Oakland Athletics: "PTBNL"
Solid work from Josh Phegley, who goes by the nickname "player to be named later".
Philadelphia Phillies: "Knapp Time"
Andrew Knapp has the right idea.
Pittsburgh Pirates: "Nightmare"
Coup de force of the ridiculously great Felipe Rivero.
San Diego Padres: "Quick-Quick"
As if Kevin Quackenbush had any other choice.
San Francisco Giants: "Shark"
Not too many big nicknames on the Giants, so Jeff Samardzija takes it with relative ease.
Seattle Mariners: "Corey's Brother"
Well done, Kyle Seager. Well done indeed. It's the best nickname we'll see during Players Weekend.
St. Louis Cardinals: "Sparky"
The nickname itself is good, but it's made even better by the fact that Seung Hwan Oh is apparently going to have Korean characters on his shirt:
Impressive!
Tampa Bay Rays: "Tommy Two Towel"
I'm not sure what exactly Tommy Hunter means here, but I can venture a guess.
Texas Rangers: "Porterhouse"
I saw Porterhouse's nickname and immediately knew it was Mike Napoli. Some nicknames are perfect.
Toronto Blue Jays: "Joey Bats"
Jose Bautista's timeless nickname was created for Players Weekend.
Washington Nationals: "Blue Eye"
Kudos to the heterochromatic Max Scherzer.
---
Game-worn player weekend jerseys will be auctioned off with 100% of proceeds going to the MLB-MLBPA Youth Development Foundation. It is "a joint effort established in July 2015 by MLB and MLBPA with an initial commitment of $30 million focused on improving the caliber, efficiency and availability of baseball programs and amateur softball clubs in the United States and Canada".